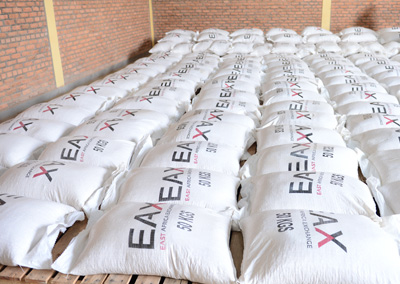 EAX PROVIDES GUARANTEES FOR MEMBERS' STOCK
One of the greatest challenge commodities producers especially smallholder farmers face, is access to financing opportunities from lenders or financing institutions such as commercial banks. Farmers often times don't have collateral to use for applications for loans. Moreover, they don't have guarantee for preserving their crops quantity and quality in standard storage facilities over a period of time thus putting them in position of doubt from a bank's perspective on their ability to repay loans. EAX ensures the commodities stored at EAX certified warehouse play a role of collateral from banks and commodities financing institutions. EAX issues electronic warehouse receipts to stock owner and provide with the guarantees as a collateral manager for physical commodity quantity and quality on a maximum period of nine (9) months.
THE ELECTRONIC WAREHOUSE RECEIPTS IS A COLLATERAL
With the use of electronic warehouse receipt system, EAX support financial providers to mitigate risks on loan issuances and re-payment transactions. EAX efforts in stock control to ensure the stock is traded and used for the repayment of the loan.